Home / About
All About Horses - Natural Riding & Natural Horse Management
Welcome to All About Horses - The Natural Horsemanship and Horse Management training system, where over 25 years of experience is put in place to offer you and your horse the opportunity to learn trust, communication and care.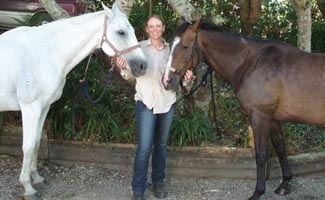 Our interest is in having fun with horses and being able to understand the way they think as prey animals and to treat them with the respect they deserve.
We also love and respect people so strive to keep you happy, motivated and safe.
Do you ever wonder - Why does my horse not stand still? Why does my horse throw its head in the air? Why does my horse nip or bite? Why does my horse play up in company? Why does my horse shy at the same thing?
Or do you hear yourself saying - "I dont feel like riding today", or "I dont know what to do with my horse today"
These questions and more can be answered, and I can show you how to deal with them and any other issues that may be causing you and your horse frustration, and how to keep motivated on a daily basis.
We can work on building confidence and work out how to deal with each issue as they arise or specifically dealing with single issues.
We can design a tailor made programme to keep you and your horse fit and motivated as well as working towards your goals.
Natural Riding Lessons: Horse riding lessons and natural horsemanship for you and your horse. Personalised programmes to keep you and your horse happy and motivated.
Get ready to have fun with these interactive sessions where you will work through a number of practical exercises that relate to every day riding and handling. For group sessions you will need a minimum of two people. You can also work through a comprehensive programme of developing communication, horse handling and riding skills using natural horsemanship methods- from Level 1, Level 2 and Level 3, Stages A, B & C.

Certificates will be issued upon completion of assessments.

Clinics: Overall behaviour and care and learning "Natural Riding" Groups of 5- 10 people and horses. Topics can include: Bits vs bitless, shoes vs barefoot, prey horse vs predator human, horse body condition, practical exercises for everyday use in riding, handling and direction.
Hoof Trimming: Since 2001 -Professional barefoot hoof trimming. Quality, friendly, prompt, service with competitive rates.Holistic barefoot trimming that enhances the the health, balance and movement of your horse.
NATURAL HORSEMANSHIP IS: "The ability to open your mind to a better world for horse and human. To see things how the horses sees things. To communicate in a way you both understand. To gain and retain trust, communication and care" (Kirsten Rose- 2000)
I welcome you on this exciting adventure and where everyday will be as fulfilling as the last. Let us have fun through these amazing animals and develop our skills and language so we are able to communicate and understand how to work with horses so they enjoy it as much as we do.
Kirsten Rose